Sunday, July 24, 2011
It's raining... Thank you, Lord! It is raining HARD and I am rejoicing in the very depths of my heart over it. All too soon it will pass and the humidity will climb and I will again long for the sound of the drops pinging off the roof of my studio, clambering down the gutters of the house and coursing throughout the bar ditches.
The seat of my bicycle will be soaked, but I don't care. Thunder rolls in the distance and gets closer with the torrential falling of drops. My dog claws at my legs, panicked at the sound of the booming, while I type and smile. The sounds must be so much more vibrant and scary to them with the four legs, he is shaking so.
When I was small, I used to be terribly afraid of thunderstorms. I distinctly remember a late night storm that coursed through our city, blowing up the large trees in the nearby park with lighting strikes. It was terrible to behold and I recall crying long into the night, fearful that the lightning would find me and turn our home to ash. I would count at the flash of lightning, "One Mississippi, Two Mississippi, Three...." as the storm came closer, listening for the boom of thunder not far behind. Someone had told me that was how many miles away the apex of the storm was and I clung to that, desperate for solace in the dark. It was terrifying when I couldn't even get out one 'Mississippi' before the crash of thunder bellowed angrily around me, and then none too soon it all began to move off.
The things that are so terribly scary and loom large over our psyches as a child, can turn to such welcome afternoons spent as an adult admiring the perfection of God. I welcome the rain as our gift for the fields, a day I don't have to water the flowers, a cooling off of my overheated heart. Everything seems renewed after a good scrubbing of raindrops. Life smells better, feels more doable after the rain.
Even now the storm is moving on, the rain coming in fits and spurts. The thunder is rolling away and the dog is panting below my chair, semi-content that I am not worried over the loudness while he still shakes uncontrollably. I love afternoons like this one... Looking forward to the washed, new world.
Posted by

Stacey Brown
at 2:44 PM
No comments:

Thursday, July 14, 2011
Yup... It's here! And I'm so freaking excited!!! Ahem... There is a huge amount of work to be done before my studio is a living, breathing, usable space. If I am absent from my blogs you have confidence of where I'm located... I'm on a ladder or on my hands and knees making this little space inhabitable.
Check it out...
The day it arrived... Still on the trailer.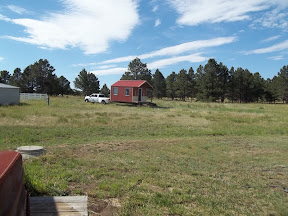 Pulling it almost to its final resting spot.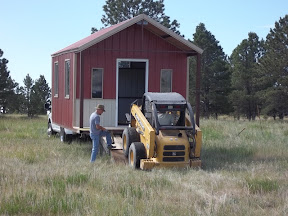 Holding my breath while they off-load
Back wall where the card room will go
Seating area where futon will rest...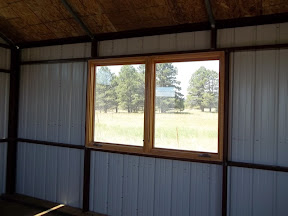 My writing desk will go here...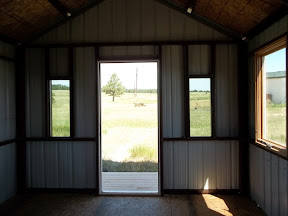 Front door and side lights... It is actually very light and airy. Not dungeon like at all!
I hope to keep the updates coming as I get closer to completion and move-in! Yay!
Posted by

Stacey Brown
at 4:56 PM
1 comment: